What readers are saying:
This is a fast pace novel for a reader looking for entertainment. Be prepared to fall in love with the characters and feel joy, suspense, sadness and excitement all in one sitting. I shall also warn you, from personal experience, of the attachment and bond you may form with Christian, Amy, CB and of course Mr. and Mrs. Asher. I eagerly await the next novel of the series and look forward to witnessing the greatness that will surely come from this one.
Peggy M., NY Times Best Selling Author
 Awesome! An enthralling story of imaginative possibilities. R.C.'s creation is sure to be on the best sellers list. I'll save you the trouble, add this to your list of favorite reads now.
John B., COO International IT Firm, Colonia, NJ
Being There Awakenings has it all. You will feel the strong emotional bond shared by the characters as well as the thrill of Christian's exploits. I have to warn you, the author's creative writing will make you laugh, cry and may even make your palms sweat as the adventures play out. Share this with your friends, they'll love it too.
Geri Anne C., Bellmore, NY
Q&A:
One of the most popular questions we have been receiving is about Amy, the northwestern beauty that has captured Christian's affections.
Question: How and why was Amy's character chosen to play opposite Christian in the story line?
Answer: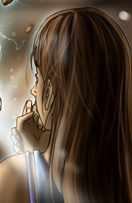 It was important that Amy's character have qualities that were compatible with Christian's Adventurous nature. Having been raised in a farming and ranching community, she developed strong family bonds and inner strength. Her physical strength and agility developed while working on the farm with her mom and dad, not to mention her numerous adventures exploring the countryside and climbing the foothills near to the family farm. This coupled with her natural innocence, warmth, lightheartedness and friendly personality made her character the perfect match for Christian.
Contests:
I'd like to personally thank our new friends and fans for your votes and chapter suggestions. We see strong potential for a few imaginative chapter idea's… but we are not ready to let the cat out of the bag on any one idea just yet…. we have a way to go before we can select which chapter idea/s might be included in a future installment of the Being There Series… Keep them coming!
A friendly reminder… I cannot answer or post about the chapter suggestion/idea entries because I do not get to see any of them… I will only be handed the winning entry for development in the series once selected on the ides of March.
For Our First Time Visitors: Visit the contest drop down tab at BeingThereAwakenings.com and join in on the fun. Place your vote or submit your idea for a chapter. If selected, one or more of you may become part of writing history. A story line will be developed around the winning suggestion and your name will be placed in the chapter for the world to see and you will become part of writing history…So submit your idea. You might win a prize or if accepted, your chapter suggestion may well alter the course of the series.
Until next time….. Live to the Max!
RC